South Mimms double decker bus driver jailed over crash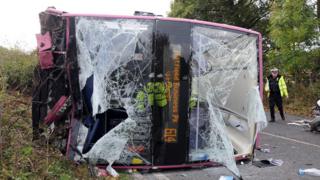 A bus driver has been jailed for three years after his double decker bus crashed in Hertfordshire, injuring more than 80 people.
Modecai Juma, 42, of Maxwell Road, St Albans, had pleaded guilty to three offences of causing serious injury by dangerous driving.
He said he had had four hours sleep the night before the crash near South Mimms in October 2014.
He was disqualified from driving for five years, at St Albans Crown Court.
The court heard that the double decker had 99 passengers on board - seven more than there should have been - when it hit an oncoming car and flipped on its side on the A1081 St Albans Road at about 08:20 GMT on 20 October 2014.
Eight people were seriously injured including a woman who suffered a double fracture of her pelvis.
Other passengers suffered cuts and bruises, broken teeth and broken fingers, and ambulances arrived at the scene to find shocked and dazed passengers climbing through broken windows.
The court was told that Juma had arrived late for work and was allocated a different bus than he expected to be driving.
'Nodding forward'
Prosecutor John Carmichael said during the journey in the Uno double decker Scania bus, Juma was seen to argue with passengers and was speeding and braking harshly.
After the crash, one passenger said he had seen Juma's head dropping forward so that his chin ended up on his chest.
The vehicle crossed the central white line as Cheryl Painter from Borehamwood was coming in the opposite direction in her Vauxhall Corsa with her seven-year-old son, the court heard.
The bus collided with her car before veering back onto the other side of the road and toppling onto its side.
Ms Painter suffered "serious life-changing injuries", police said. Her son escaped without serious injury.