Waddesdon Manor attic letters reveal mystery 'crush'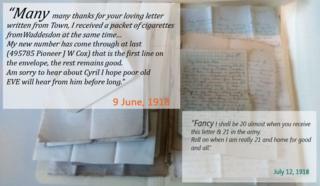 A stash of letters, written 100 years ago, found in a hotel attic have revealed an intriguing bond between two estate workers.
About 100 letters were found by an electrician working on the Five Arrows Hotel which stands near the Buckinghamshire estate Waddesdon Manor.
They were sent by a teenage World War One soldier to the landlord's daughter, 13 years his senior.
An estate spokeswoman said: "I think he had a crush on her."
The Five Arrows is a Grade II listed building near the gates of the manor, a stately home built by Baron Ferdinand de Rothschild in the 19th Century.
'Entirely serendipitous'
Archivist Catherine Taylor said a workman in the roof "just happened to put his hand down in a space behind the chimney" and found the letters which date from 18 June 1917 to 28 October 1918.
"It was entirely serendipitous," she said.
They were sent from the Western Front by Jack Wilson Cox, son of James Wilson Cox - chauffer to Alice de Rothschild. The recipient was Elsie, the eldest child of landlord Henry Turnham.
Despite an age difference - Elsie was in her early 30s - the letters show a very close relationship but it's "not 100% clear" exactly what that was or why she hid them.
The "very touching" missives are full of news about Waddesdon and memories of going on trips with Elsie and her family, but he also mentions 50 other people as well as news from the Front and "a lot of talk about the weather and parcels received".
"They are clearly two people who have known each other for a while [and] at times it's very much like a younger brother writing to an older sister," Ms Taylor said.
"But he also always signs himself off with "all my fond love and kisses" and calls her "my darling girl", so there are points where he writes to her like a sweetheart.
"There's a sense he'd quite like there to be something more but is realistic that this is unlikely to happen."
Jack returned from the war, married a Luton girl in 1923, and worked at the manor until the mid-1950s. Elsie never married.
"I'm not sure it's a mystery we will ever fully understand," she said.
"If anybody does know anything we'd be delighted to hear from them."
People currently working in the hotel have been "thrilled" at the discovery, Ms Taylor added.
"[They have] touched them - it's a tangible connection to people doing a similar job to them in the past," she said.
As well as the intriguing relationship, Ms Taylor says the letters confirm Waddesdon's "tight knit community".
"There were a couple of hundred people working on the estate but everybody knew everybody else's business - that really comes across," she said.
Jack Cox and Elsie Turnham
Jack joined the Oxfordshire and Buckinghamshire Light Infantry early in the war, after seemingly lying about his age, and was deployed to France in May 1915 
He later served with the Royal Engineers as a signaller and motor dispatch rider
Returning to Waddesdon after the war he became James and Dorothy de Rothschild's chauffeur until at least the 1950s
Elsie was the eldest child of Henry Turnham, landlord of the Five Arrows from 1887 until 1924
The eldest of five children, her three younger brothers also fought in World War One and were friends of Jack's
She died in Aylesbury in 1953.