Milton Keynes sex attack victim says CCTV secured case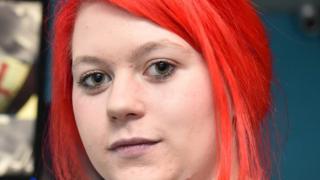 A woman who was sexually assaulted while unconscious said she fears her attacker would not have been caught if cameras had not been installed after a burglary.
Kayleigh Emery, 21, was dragged from her sofa and attacked by Jesurajan Jesuthasan in her Milton Keynes home as her boyfriend slept upstairs.
Jesuthasan, who the couple considered a friend, has been jailed for six years.
Miss Emery said the entire incident was caught by CCTV in the living room.
'Passed out'
She and her boyfriend Daniel Dunkley - who installed the camera after a break-in at his previous home - had been out with Jesuthasan in April last year before going home for drinks.
"We were having a laugh, drinking shots, getting to know each other," said Miss Emery, who has waived her right to anonymity.
Mr Dunkley went to bed, with Miss Emery due to join him after finishing her drink.
"I must have passed out and I woke up on the floor with him [Jesuthasan] sexually assaulting me," she said.
"[I saw] the look on his face, he was mortified that I had woken up.
"I was just coming round, trying to realise what had happened and he said to me, 'it was all a bad dream', I needed to get my story straight, I needed to go back to sleep.
"When I started crying he punched the sofa, shouted in my face and tried to pick me up and put me back on the sofa."
The noise woke up Miss Emery's partner and Jesuthasan left.
Moments later, the couple played the CCTV footage and witnessed the ordeal experienced by Miss Emery while unconscious.
"He started kissing me and thrusting up against me, and taking photos of me," she said.
"Then he slams me down on the floor.
"You see him thrusting up against me and then him realising I've woken up. He knew he had done wrong."
Jesuthasan, aged 21 and also of Milton Keynes, was charged with sexual assault and stood trial at Aylesbury Crown Court in December.
He was found guilty by a majority verdict and sentenced to six years.
"If I didn't have the CCTV footage I don't think I would have had a case, it would just be my word against his," said Miss Emery.
"I think he would still be walking free, and he could do it to another girl.
"To this day I still feel ashamed that I let someone like him into my home.
"I expected him to be loyal and a friend."