St Francis Boys' Home sex abuse inquiry: Pair deny charges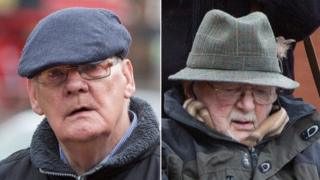 Two men have denied abusing 26 children at a Catholic boys' home in Bedfordshire more than 40 years ago.
James McCann, 79, of Suffield Court, Swaffham, Norfolk, is charged with 18 sexual assaults and 48 assaults in connection with St Francis Boys Home, Shefford, between 1963 and 1974.
John Cahill, 73, of Chandos Court, Bedford, has been charged with six sexual offences against four boys.
The pair pleaded not guilty to all charges at the Old Bailey in London.
A spokesman for the Old Bailey said a trial date had yet to be fixed, but they would be tried separately.
The charges against Mr McCann relate to 25 alleged victims aged between five and 16.
Those against Mr Cahill relate to four alleged victims aged between 11 and 16.