Policeman jailed for pursuing abuse victims for sex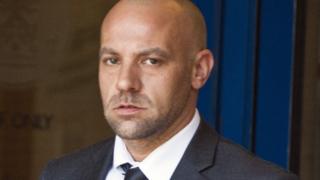 A policeman who worked with domestic violence victims has been jailed for three years for pursuing several of them for sex.
Married PC Simon Salway, 39, from North Hertfordshire, targeted the women after they contacted police for help.
He fathered a child by one of the women he met when he visited her home to take a witness statement.
Salway was convicted of six charges of misconduct at Luton Crown Court in relation to five different women.
He was told by the judge that he had "let down the entire police force and its reputation".
Salway, who joined the force in 2003 and was based at Hatfield Police Station, had denied all charges.
Sexual messages
After winning the trust of the women, he flirted with them before sending them sexual messages, the court heard.
He kissed one woman who was being threatened by her partner, after arranging to meet her in a lay-by while he was on duty.
He had sex with another vulnerable woman in her living room, the jury was told.
She later discovered he was married and ended the relationship but later realised she was pregnant. She gave birth to their child in May 2008.
Salway persuaded another woman to perform a sex act on him before he went back to work.
Judge Richard Foster told him: "Over a period of some seven years, you used females with whom you came into contact in such circumstances as an opportunity to pursue a sexual relationship.
"Domestic violence is one of the greatest unreported crimes and misconduct such as that in this case, can hardly encourage victims to come forward to the police."
Salway, who was acquitted of a seventh charge, is currently suspended by Hertfordshire Police.