Triple murderer compensated for shampoo-damaged CDs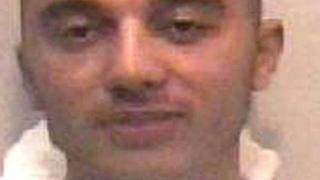 A triple murderer has been awarded £1,000 after a judge ruled prison guards had "deliberately" damaged his CD collection with shampoo.
Kevan Thakrar, who is serving three life sentences for killing drug dealers with a machine gun, took legal action against the Prison Service.
He claimed his stereo was broken, four books were taken and 21 CDs tampered with during a prison transfer.
The Prison Service said it was considering lodging an appeal.
'Deliberate act'
In a written judgement, Milton Keynes County Court District Judge Neil Hickman said Thakrar was entitled to £99.99 for the stereo, £175.20 for the CDs and £53.47 for the books.
He said Thakrar, from Stevenage, should also receive "exemplary damages".
"I am satisfied that the damage to the CDs must have been caused by the deliberate act of one or more prison officers," said the judge.
"The circumstances surrounding the damage to the stereo and the 'disappearance' of the books are extremely suspicious."
He added: "In my judgment, the minimum award which will adequately mark the court's disapproval of what has happened is £1,000."
A Prison Service spokesman said: "We are currently considering this judgment and whether there are grounds to lodge an appeal."
Thakrar was jailed for a minimum of 35 years after killing Keith Cowell, 52, his son Matthew, 17, and Tony Dulieu, 33, from Essex, in Bishop's Stortford, Hertfordshire, in 2007.
In 2014, he won compensation after a separate legal challenge when items including his nose hair clippers were lost.
In March 2010, Thakrar maimed three guards at Frankland Prison in County Durham after stabbing them with a broken bottle. He was cleared of attempted murder and wounding with intent.
Thakrar was later moved from Frankland to Woodhill Prison in Milton Keynes. It was during the move that he claimed the items were damaged.