Honour for retired St Albans judge's reform work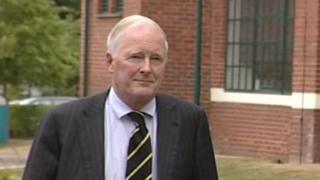 A retired judge has been recognised in the New Year Honours for his work to reform drug addicts.
His Honour Michael Findlay Baker QC, of Ware, Hertfordshire, has been made a CBE for his services to the administration of justice.
Judge Baker, 72, promoted a programme which aims to break the cycle of offending by drug addicts while resident judge at St Albans Crown Court.
He said he was "absolutely delighted".
He said the honour was for his work with the police and probation service in the Choices and Consequences scheme, where prolific "offenders who committed offences to feed their drug addiction, who want to change their way of life" are given an opportunity to stay out of prison and conquer their addiction.
"It is a long term programme and there have been failures as well as successes, but when it does succeed it turns someone's life completely around," he said.
"I am very proud to have been involved in this."
He added there was "very little prison can do for drug addicts" apart keeping them away from drugs while in jail.
Judge Baker, who retired in 2012 and serves as Deputy Lord Lieutenant of Hertfordshire, presided over the seven-week inquest into the Potters Bar train crash in 2010.
The jury found the points were in an unsafe condition and there had been failures to either inspect or maintain them.