Watford baby born on M1 while parents heading to hospital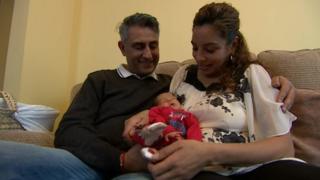 The parents of a baby born on the side of the M1 have spoken of their shock at his rapid arrival.
Rishan Pau was born at about 08:00 GMT on Sunday morning, while his parents were on their way to Watford General Hospital's maternity unit.
Mother Kanta Pau initially thought it was a false alarm because Rishan was not expected for another two weeks.
They had reached Junction 10 when she turned to her husband and said: "Hon, the baby's here."
As first reported by Luton Today, Mrs Pau began to experience pains at about 06:00 GMT, but initially thought they were Braxton Hicks (false contractions).
Her husband Amit said he started timing them and when he realised they were coming every 30 seconds decided to head to the hospital, which is about 20 minutes from their home in Watford.
Their plan was to drop off older daughters Radhika, aged two, and seven-year-old Radha, with their grandmother on their way, so the girls were also in the car.
Mr Pau said: "She said 'The baby's coming' I said, 'No, you're joking, just relax' and then she said, 'The baby's here'.
"I was in complete and utter shock and I pulled over on to the hard shoulder."
Mrs Pau said Rishan's umbilical cord was around his neck and he was "about to pull it" when I shouted "don't pull it".
Mr Pau rang the ambulance service who advised him to wrap up their son.
A crew arrived within about eight minutes, freed Rishan and soon Mr Pau was cutting the cord.
Mrs Pau said: "It was a scary moment and I'm so glad my husband was with me."