Luton hammer killer actions 'not preventable'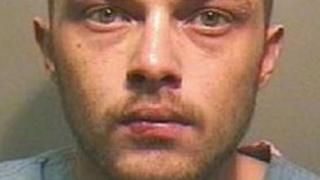 Hospital staff who assessed and released a mental health patient hours before he murdered a pensioner "could not have predicted his actions", an NHS investigation has found.
David Clairmonte attended Luton and Dunstable Hospital where staff decided he did not represent a danger.
He went on to beat Fred Hodsdon, 69, to death with a hammer on 25 June 2011.
The NHS review into the incident found it "was not preventable" but said there were lessons to be learned.
'Psychiactric assessment'
Clairmonte, an unemployed drug user, went to Luton and Dunstable Hospital with his aunt, who was concerned about his depression.
It was decided that he was not a danger to anyone else and he spurned the chance of a three-day assessment at a psychiatric clinic as a voluntary patient.
He then turned up at Mr Hodsdon's Luton bungalow knowing he would be alone because he had worked on his roof in 2008.
Clairmonte bound the pensioner's hands with electricians' tape and led him from room to room, beating him 13 times around the face and head with a hammer he had found in the garden shed, Luton Crown Court was told.
He denied murder but was found guilty and was ordered to serve a minimum of 30 years imprisonment. At the time of his sentence he was aged 26.
The NHS made nine recommendations for improvement following the investigation, including the trust should ensure staff communicate with patients' families.