Man in Bedford dies after taking 'legal high' drug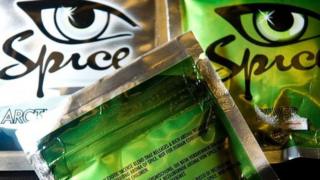 A man has died after taking a synthetic cannabis substitute called "Spice" in Bedford, police said.
A spokesperson said it is believed he had been smoking Spice but the cause of death would be determined by a post-mortem examination.
In separate incidents several other people were also treated in hospital after taking the drug.
Two men needed hospital treatment on Friday.
On Saturday another man was taken to hospital in cardiac arrest after taking Spice but later discharged.
On Sunday another man who had taken the synthetic drug was taken to hospital after falling unwell.
Police do not believe the incidents are connected with a 'rogue' batch of the drug but have issued a warning across Bedfordshire about its dangers as Christmas festivities increase.
While simulating the effects on the brain of cannabis, which is banned in many countries, including the UK, its chemical make-up is different and its side-effects, as yet, little studied. Some experts say it can be up to 100 times as potent as the drug it mimics.
Spice has been linked to several deaths previously and can affect the heart, breathing and digestive systems, the police spokesperson said.
"We want to remind people just because something is marketed as 'legal', it does not mean it is safe."