Ikechi Anya: Watford star's Oxfam kit donation to be auctioned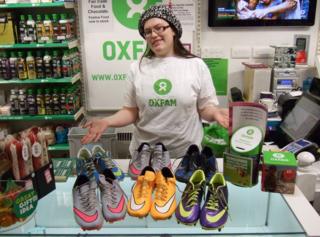 A charity shop is to auction a bag full of kit donated by a Premier League footballer.
Watford and Scotland midfielder Ikechi Anya dropped off shirts, tracksuits and boots at Oxfam in St Albans, where the club has its training ground.
At the time, shop volunteers did not realise who he was but found out after researching his name.
Anya, 27, tweeted about the donation but has not commented further on why he chose the anti-poverty campaign group.
He told staff at the shop he was a footballer and they then worked out who he was.
More on this story and others from Hertfordshire
Ellie Hale, a 24-year-old volunteer, was there when he handed the clothes over on Thursday.
"I'm more of a rugby fan, so I didn't know who he was when he came in yesterday," she said.
"In fact, I didn't even know Watford was a Premier League club, so I just thought he was a guy who played locally.
"I finally found out who he was this morning, so it's all turned into quite a surprise."
Anya's career has also taken in Wycombe Wanderers, Northampton Town and a spell in Spain.
Abigail Owen, store manager, said: "We've no idea how much it could raise, but we've quipped it will help give poverty the boot.
"I didn't get to meet him, but it's fantastic to receive things from a footballer because it really raises the profile of the charity."
The Chequer Street store said it would be provide details about the eBay sale via its Twitter account and expected to open the auction on Thursday.