Fraser Hart Milton Keynes raid: CCTV footage released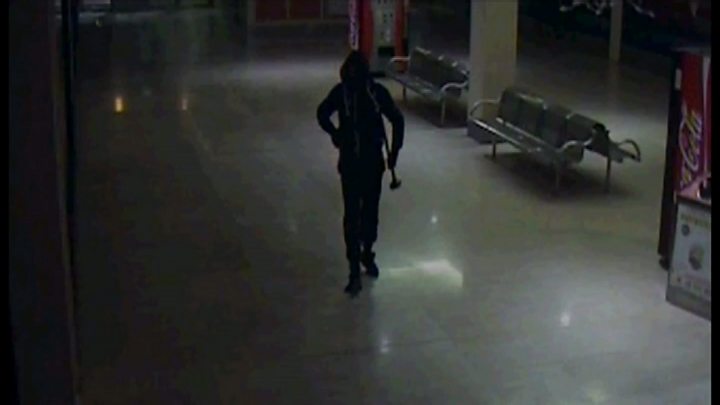 Dramatic CCTV footage of the moment robbers smashed their way into a shop to steal £650,000 of jewels has been released by police.
The gang was caught on camera raiding Fraser Hart in thecentre:mk in Milton Keynes at about 03:30 GMT on Saturday.
A hooded thief can be seen breaking a window with an axe-like weapon before calmly phoning accomplices who run to the jeweller's carrying bags.
The CCTV has been revealed in a fresh appeal for witnesses, police said.
Det Ch Insp Kelly Glister, of Thames Valley Police, said people may have spotted something suspicious as the robbers were so brazen.
"The public may have seen something that could help us... both in the pre-planning stages and the offence itself, which was quite open and probably very noisy," she said.
"The night-time economy was just coming to a close with lots of people wandering around and lots of vehicles in the area."
The jeweller's re-opened on Sunday after the burglars caused "extensive damage" to the shop and surrounding area.
A fire was lit nearby and a chain was placed across a road to try to thwart a police pursuit.
Tree trunks had also been put across Marlborough Gate, which runs alongside the centre.