M40 biker's body 'not discovered for five days'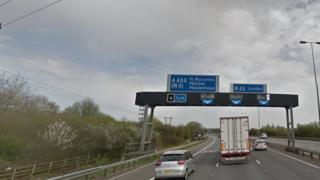 The body of a motorcyclist found in undergrowth off the M40 in Buckinghamshire may have been undiscovered for five days, police say.
The man, who has not been named, was found on Wednesday near junction 4 of the southbound M40 near High Wycombe.
Thames Valley Police have appealed to anyone who saw a red Honda at the Handy Cross roundabout at about 23:20 GMT on Friday to come forward.
Officers said they have have informed the man's family.