Woman rescued in Buckinghamshire after tree falls on car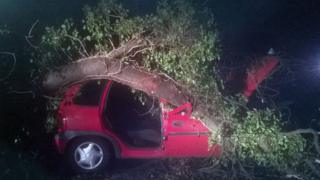 A woman had to be freed from a car in a country lane after a tree fell on it during Storm Barney's high winds.
She was injured in the accident in Ferry Lane between Bourne End and Cookham, Buckinghamshire at about 20:15 on Tuesday, the fire service said.
A man in the car was also injured but got out before help arrived.
Their injuries have not been confirmed but the ambulance service said one of them was taken to St Mary's Hospital in Paddington for further treatment.
Storm Barney saw winds peak at 85mph (136km/h) as it hit Wales, the Midlands, and southern and eastern England on Tuesday but they calmed down overnight.
Thousands of homes remain without power around the country, with damage caused by the wind leading to disruption on rail services.