Accused Stotfold GP Robert Lewis 'never fondled breasts'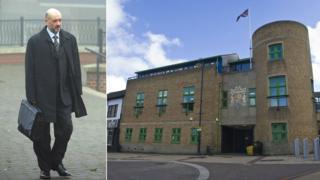 A GP accused of indecently assaulting patients has told a court he "never fondled anyone's breasts".
Dr Robert Lewis, 50, of Shefford in Bedfordshire, denies 37 charges relating to women who were having medicals during recruitment processes.
One woman earlier told Luton Crown Court fondled her "like a 14-year-old boy".
But Dr Lewis told the court he checked breasts for "lumps and bumps" and groin areas for evidence of hernias.
The examinations were given to 23 alleged victims during medicals on staff for ambulance and fire services in Bedfordshire and Hertfordshire.
'Polishing headlights'
Dr Lewis, who works at Larkfield Surgery in Stotfold near Hitchin, has pleaded not guilty to 36 charges of indecent assault between 1999 and 2003 and one of sexual assault in 2009.
One prosecution witness described her examination as being like "polishing headlights... rather than the normal breast exam".
Dr Lewis told the jury he could see what she meant as his breast examinations involved circular motions of the hands, but he had "never fondled anyone's breasts".
Another alleged victim said she had been told to strip down and he slid his hand into her thong.
Dr Lewis told the court he had examined patients' groin areas for hernias but his hand did not go near their genitalia.
He added a "nurse chaperone" would always have been present and could have seen and heard everything or entered the curtained area where examinations took place.
The court heard he would ask permission to perform the next stage of any examination and followed General Medical Council advice to keep chat to a minimum because patients in a state of undress were "vulnerable".
The trial continues.