Fiancé fears for Romanian fire victim's life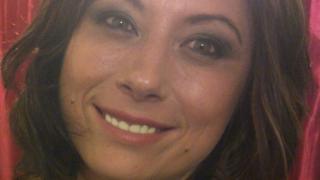 The fiancé of a woman left fighting for her life after a nightclub blaze in Romania has said she will die if she cannot be flown back home to the UK.
Dwain Mensah, of Luton, Bedfordshire, has been at his fiancée Elsa Albu's bedside since the tragedy.
Ms Albu, who was born in Romania but is a British resident, was badly burned and placed in an induced coma.
Romanian officials said they would pay to repatriate her to the UK, but Mr Mensah said they are now reconsidering.
Ms Albu, 37, was celebrating her birthday on 30 October with her brother and friends when a firework ignited foam decor inside Bucharest's Colectiv club.
"Her friends died and her brother suffered serious burns down to the bone," said Mr Mensah, 31.
He believed his fiancée was caught in up in two stampedes and suffered third degree burns as other people, who were on fire, pushed against her.
Dr Sarah Pape, lead burns consultant at Newcastle Hospitals NHS Foundation Trust, helped treat Ms Alba in Romania.
She said the victims have received "high quality intensive care", but patients needed to be sent abroad because of the magnitude of the disaster and strain on resources.
"The beds in the burns wards were full, with patients on other surgical wards, and the excellent doctors were now very tired," she said.
Mr Mensah said he has been told Ms Albu's treatment will be covered by the NHS on her return, but the UK government will not pay for her repatriation as it will cost about £50,000.
"Everybody involved was told they would be flown to where they need to go at Romania's expense, so when she is well enough we need to see whether they will stick to their agreement," he said.
"But we heard the Romanians are reconsidering.
"She needs to get back to the UK to live, if she stays here she'll die, but she needs to be well enough to leave and this is what we are concentrating on."