Bishop's Stortford College pupils flee boarding house fire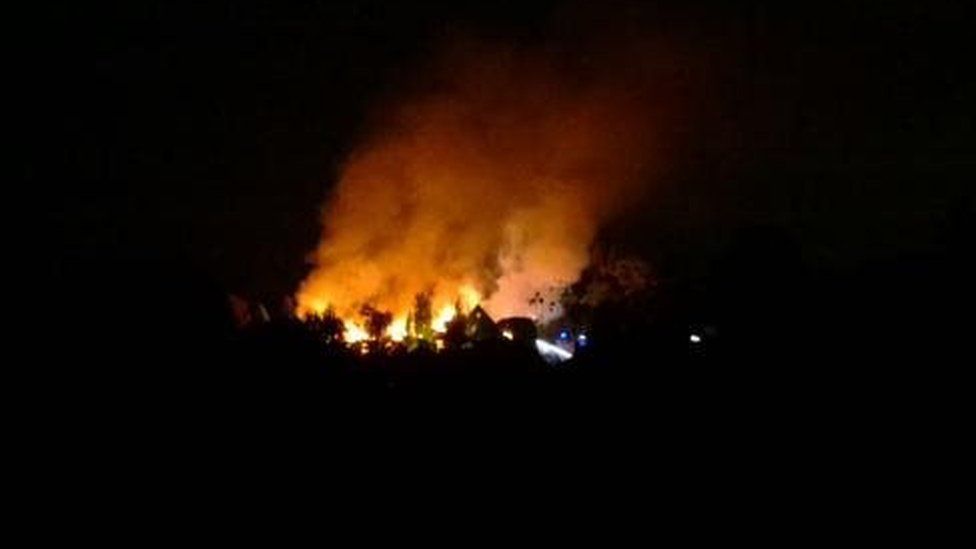 Sixty-four pupils and staff had to be evacuated from a boarding house during a fire at Hertfordshire school.
About 40 firefighters were called to Bishop's Stortford College on Maze Green Road at 03:00 BST.
A school spokeswoman confirmed the roof of Robert Pearce House had been destroyed in the blaze.
All pupils and staff got out of the building within a few minutes and no-one was injured, the school spokeswoman added.
Former pupil Stephanie Howard-Smith, who lives nearby, said: "I'm absolutely stunned. I could see the flames getting higher, and suddenly you could hear the roof falling in and cracking sounds. It's still smouldering now."
A fire service spokeswoman said six engines were still at the scene and an aerial ladder was being used to deal with a collapsed roof. The cause of the fire is not yet known.
The spokeswoman for Bishop's Stortford College, which offers day and boarding schools for four to 18-year-olds, said the fire appeared to have started in the roof.
The prep school and senior school had been closed as a result of the fire, but the school hoped to be operating "as near normally as possible" on Wednesday, she said.
Related Internet Links
The BBC is not responsible for the content of external sites.