St Albans Roman gold coin hoard goes on display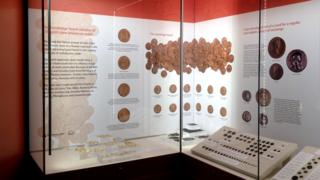 A hoard of Roman gold coins worth nearly £100,000 that was found in St Albans has gone on display at one of the city's museums.
The stash, found in October 2012, and believed to be one of the largest Roman gold coin hoards buried in the UK, can be seen at Verulamium Museum.
The 159 coins date from the final years of Roman rule in Britain in the 4th Century.
A museum spokesman said it was "quite a relief" they were finally on display.
The coins, discovered on private land by Westley Carrington during his first metal-detecting outing, were declared treasure at an inquest in July 2013 and the value was decided by an independent committee at the British Museum.
Some had come from France, Germany and Greece, but they were mostly struck in the Italian cities of Milan and Ravenna, issued under the Emperors Gratian, Valentinian, Theodosius, Arcadius and Honorius.
'Good nick'
A museum spokesman said it is thought the coins were minted between 404-408AD in Rome and - given their lack of wear and tear - buried just outside Verulamium just a few years after that.
David Thorold, a curator at the museum, said they were in "phenomenally good nick" and "had not been handled by many Roman individuals".
"You get a radiant effect from the striking process and that is still there so the majority are in almost mint condition - it looks like they came straight here and were buried for safekeeping," he said.
"We don't know why no one came back for them - it could be that they just couldn't find the spot again."
The coins were purchased with support from the Heritage Lottery Fund, St Albans Museums and Galleries Trust and an anonymous overseas benefactor.
Roman gold coins
Gold coins, known as solidi, were extremely valuable and not traded or exchanged on a regular basis
They were used for large transactions
They were mainly used by the wealthy elite to buy and sell or to pay taxes
Source: David Thorold, Verulamium Museum