Werewolf conference: The people seeking 'the company of wolves'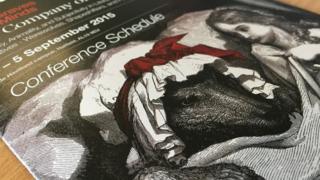 A conference about werewolves is being staged by a university, offering participants the chance to explore the creatures' cultural significance and meet real wolves. So who are the people interested in spending three days learning about all things lycanthrope?
The crowd gathering in the atrium of the University of Hertfordshire's de Havilland campus sip their coffee and nibble on biscuits.
For all intents and purposes, they could be attending a conference on a rather run-of-the mill topic.
But a closer look at the schedule reveals one of the first talks is entitled "Trash, Monsters and Freaks", and the biscuits are decorated with motifs of Little Red Riding Hood and her nemesis, the wolf.
Steph Reid from Basingstoke is one of the 50 or so people who have come along to the three-day conference called "The Company of Wolves", which she first heard about on Twitter.
"I studied the gothic at uni and I've just finished a masters, and it feeds into my interest from there.
"I've always read stuff about the darker side, and what I was reading and watching when I was a teenager, like Buffy the Vampire Slayer, filtered through so when I got to uni and I could actually study it, it was a bonus," she said.
"I wouldn't have missed this."
Fellow attendee Tania Evans has travelled from Australia in order to attend the conference.
"I had a paper on werewolves sitting around, and I saw the conference was on and thought it would be a fantastic opportunity to come to England, and to give my paper legs," she said.
Ms Evans' talk was in a session called "Leader of the Pack", and was entitled: "Full Moon Masculinities: The Werewolf in Recent Young Adult Fantasy Texts".
It was one of 50 papers to be presented at the conference, which aims to examine the cultural significance of the werewolf in all its various manifestations and cultural forms, organisers from research project "Open Graves, Open Minds" said.
Kaya Franck, a PhD student who co-organised the event, said about 80 people were expected to attend across three days.
"It's mainly academics, in general, and it's people talking at the conference because they have an interest in werewolves or they study werewolves and shapeshifters and feral children," she said.
"I always try to differentiate conventions where people dress up and conferences where people talk a lot."
Ms Franck said attendees could expect "a lot of engaged and lively debate, and a lot of original content" alongside a trip to the UK Wolf Conservation Trust near Reading.
Beverley Dear, an MA student, said she had attended a vampire conference run by the same organisers a few years ago, which had inspired her to study topics she had learnt about.
Laura Hubner works as a lecturer teaching film and media at the University of Winchester and is working on a book about fairytales and gothic horror.
"It's where those two areas collide. I'm interested in how the werewolf mythology fits around that, stemming from Little Red Riding Hood," she said.
Nick Stead, from Huddersfield, has recently had his novel about werewolves published.
"I started the first draft 12 years ago when I was 15, and it's been my dream to get it published.
"I'm hoping to learn a bit more about werewolves. I do know a lot of obscure myths but I'm sure there's still plenty to learn," he said.
Fellow werewolf enthusiast Gabi Ramsay said she had grown up watching television programmes like Buffy the Vampire Slayer and her interest had grown from there.
"Vampires were my main area of interest but werewolves slowly crept in," she said.
"We're covering things like how it's all changed with Twilight and Teen Wolf, it's broadened my horizons and I want to learn more about where it's come from."
Ms Franck said the conference offered "the opportunity to talk about things like Teen Wolf, about popular gothic text from Victorian period, about Jacob Black, and other creatures".
"We're able to talk about them in a very academic way and in a way you're going to feel supported in and as though your work is worthy," she said.
"You can often feel isolated as a PhD student, and this gives you the chance to feel 'I am on the right track, and there are others who agree with what I'm saying'."