Tracy Anstice murder: No evidence of husband's violence, report says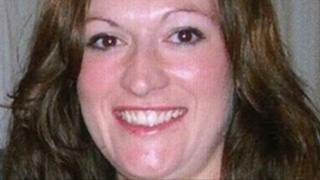 Health professionals could not have prevented the murder of a woman by her estranged husband in Bedfordshire, an independent report has said.
Tracy Anstice, 37, was stabbed outside her parents' home in Flitwick, Bedfordshire, in 2011. Lee Anstice, 50, was jailed for 24 years.
The report said there was no evidence that Anstice would be violent despite having suicidal thoughts.
It concluded the incident was neither predictable nor preventable.
Severely depressed
Mrs Anstice died when her husband stabbed her four times on 26 August 2011, with one blow penetrating her heart.
On sentencing at Luton Crown Court in 2012, Judge Richard Foster said Anstice used military training to kill her "with brutal efficiency".
Anstice had denied murder and claimed he was severely depressed and hearing voices which had disturbed the balance of his mind.
Three years on, the independent report - carried out by Verita for NHS England - was called for because Anstice had been a mental health patient with five different health trusts involved in his care.
It looked to assess whether he had received appropriate care and whether any lessons could be learned.
The document said he turned up at the Luton and Dunstable hospital in June 2011 after telling his wife he intended to commit suicide.
It concluded, however, that there was no evidence to suggest he might become violent imminently. It said he had expressed hatred of his wife once, but had no history of violence or aggression.
The report also stated he was well enough to be treated in the community and could not have been sectioned under the Mental Health Act.