Flash floods hit Hertfordshire homes after overnight storms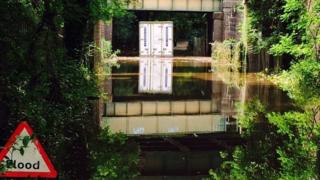 Roads were closed and firefighters were called to more than 141 incidents after heavy rain hit Hertfordshire.
Thunder and lightning overnight accompanied torrential rain, flooding many parts of Stevenage and Royston.
Old Knebworth Lane under the railway bridge in Stevenage has now reopened. London Road is shut between Hertford Road and Roaring Megs Roundabout.
Firefighters are still attending calls to pump out premises where the electricity supply had been affected.
The Water Rescue Team assisted people stuck in their cars on Lemsford Road in Hatfield.
A fire service spokesman said: "We are still attending incidents caused by people driving into floodwater.
"Take a different route - you cannot tell how deep the water is."
The first Stevenage homes were flooded in the early hours after a stream burst its banks following the storm.
Residents in Roebuck Gate said they woke up to 2ft (61cm) of water in the street that was pouring into their homes and cars.
The water has now subsided but residents have reported an unpleasant smell as they begin to clear up.
The fire service received 141 calls about local flooding in Harpenden, St Albans, Stevenage, Welwyn Garden City and Welwyn between 19:00 on Thursday and 07:00 on Friday.
Richard Thake, cabinet member for community safety at Hertfordshire County Council, said: "During periods of intense rainfall like this, drainage systems are overwhelmed and surface water flooding occurs.
"Once the rain stops, unless the drainage systems have become blocked, the flooding usually recedes quite quickly but in some cases can take longer if sewers and watercourses are full.
"Residents should report any incidents of flooding or debris on the highway that they believe to be hazardous.
"I'd also ask drivers to allow extra time for their journeys and avoid driving through flood water."