Bedford School teacher banned for Cuba school trip sex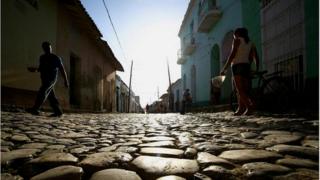 A chemistry teacher who had sex with a diving instructor beneath student accommodation during a trip to Cuba has been banned from the profession.
Hayley Dimmock, 28, was dismissed from Bedford School in November 2014.
The National College for Teaching heard concerns were voiced about her behaviour during a July trip to Cuba.
She denied acting inappropriately with a student but did say having sexual relations with a diving instructor was "wrong".
Gap in the curtains
The conduct panel heard Ms Dimmock spent a "considerable time alone" with one student, allowing him to "run his hand along her leg and inner thigh" and place his hand under her bottom.
Her "liaison" with a diving instructor happened in his room which was below the student accommodation.
The panel heard two members of staff passing the room had been able to see what was happening through a gap in the curtains and had to "prevent a group of students walking near the room".
The panel said this was a "clear failure to safeguard and supervise students under her care".
The school has yet to comment on the case.