Tory MP Oliver Dowden claims EastEnders constituency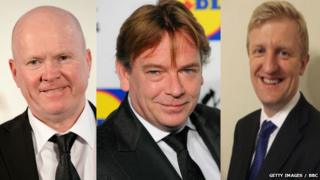 A new MP has told the House of Commons he represents Albert Square, meaning his "constituents" include EastEnders' Phil Mitchell and Ian Beale.
In his maiden speech, Conservative Oliver Dowden said the set of the BBC soap was based at Elstree - which falls in his Hertsmere constituency.
"That allows me to make a legitimate claim to be the member of Parliament for Albert Square," he said.
He also said the constituency was home to "the Ritz of the cow world".
Mr Dowdon retained the seat for the Tories in May's General Election with a 18,461 majority and 59.3% of the vote, beating Labour's Richard Butler into second place.
'Soulless sprawl'
He also noted the constituency is home to "the Ritz of the cow world", with the animals at the UK Hare Krishna community at Bhaktivedanta Manor in Aldenham treated to massages and soothing music.
"Their temple is a delightful place where you can always be sure of a very warm welcome, but maybe not quite as warm as that accorded to its cows," he said.
"They are hand-milked, treated to massages with scented candles, soothing music, in a spacious cow shed made of the finest French oak."
The MP said his constituency, which lies the very southern edge of Hertfordshire, housed "the last unspoilt rolling hills of England before the Home Counties give way to London".
"I'm absolutely determined to preserve [our towns and villages] from soulless urban sprawl so that my children and grandchildren may enjoy them as I have done," he said.
EastEnders the soap opera is set in Walford, a fictional borough of east London. The area is predominantly made up of constituencies held by Labour MPs.