Syria terror post mum Runa Khan has sentence appeal thrown out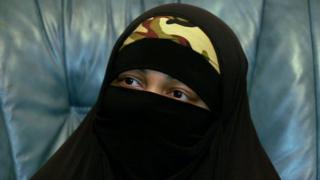 A mother of six jailed after she admitted inciting terrorism has had a challenge to her sentence thrown out by the Court of Appeal.
Runa Khan, 35, from Luton, was jailed for five years and three months at Kingston Crown Court in December.
She had posted a picture of a suicide vest on Facebook and unwittingly passed details of a route into Syria to an undercover police officer.
A judge said said these offences were "bound to attract a heavy sentence".
Khan admitted four charges of disseminating terrorist publications between July and September 2013.
'Extreme' views
She revealed her radical views on the social network, encouraging fellow Muslim women to urge their male relatives to fight and posting a picture of a suicide vest.
She also praised an article giving tips on how to prepare young children for jihad and when she was arrested police found a photo of her two-year-old son with a toy assault rifle on her phone, as well as images of her and her older children holding a sword.
Ruling the appeal against her sentence "must be dismissed", Mr Justice Blair said: "It is evident from her online activities that it is fair to describe her as someone who holds extreme Islamist views.
"What makes these offences particularly serious in our view is what the judge (sentencing judge) describes as the appellant's deep commitment to the radicalisation of children, including very young children, into violent jihadist activities.
"Offences of this kind can have serious consequences for innocent people and are bound to attract a heavy sentence."