Archbishop Trevor Huddleston blue plaque unveiled despite indecency claims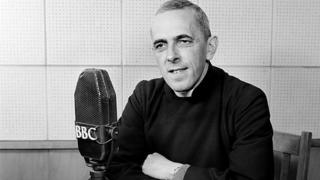 A blue plaque in honour of a former archbishop has been unveiled despite police reports showing he admitted to patting boys' bare bottoms.
Bedford Borough Council put the plaque up to mark the birthplace of Archbishop Trevor Huddleston in the town.
Records discovered in 2013 revealed the prominent anti-apartheid campaigner, who died in 1998, had been investigated over claims of gross indecency.
But one councillor said the plaque was to recognise his work in South Africa.
Colleen Atkins, who paid for the plaque from ward funds alongside fellow Bedford Borough councillor Louise Jackson, defended the decision.
'Nasty iceberg'
She said the plaque was in honour of the "tremendous difference" Archbishop Huddleston made in South Africa.
He "is not here to answer the 'I wonder if' questions," she said, adding that he had never been prosecuted.
Peter Saunders, from the National Association for People Abused in Childhood, said the archbishop "did a great deal of good, but there was a different side (to him)".
He said: "These statements are what I suspect and fear could be the tip of a nasty iceberg.
Who was Trevor Huddleston?
The Anglican priest was born in Bedford on 15 June 1913, with the plaque revealed on what would have been his birthday.
He died in 1998 after campaigning against apartheid for much of his life.
Nelson Mandela said "no white person has done more for South Africa".
"Trevor Huddleston's behaviour towards children was definitely extremely inappropriate and I wonder if it went further than what he admitted to.
"It scares the life out of me and I do wonder if they should be honouring him."
Police records from 1974 show the archbishop told the Met Police he had sat young boys on his knee.
"I have touched their bottoms and pinched them," he said.
Officers recommended four charges of gross indecency should be brought against him, but the case was dropped.
What the Metropolitan files revealed
In 2013, I viewed the police reports at the National Archives in Kew. They showed how Archbishop Huddleston had admitted to sitting boys on his lap and touching their naked bottoms.
In the report, officers suggest charging the archbishop, who was working as the Bishop of Stepney at the time, with four counts of gross indecency.
It says the allegation against him is the same in each case, "that he pulled a boy on to his lap, put his hand underneath his trousers and pants, and fondled his bottom and bare skin".
It adds that he "keeps an open house for children", whom he allowed to watch television and play with toys.
In a witness statement, Archbishop Huddleston said he allowed children to play in his dining room and stay overnight in his house, and that he took them on holiday.
He also told officers: "Neither do I consider it indecent to pat a child on the bottom or pinch him".
"What could possibly be indecent about a child's behind, or a father patting a child's behind as a mark of affection?" he said.
But the officer said: "He has been outrageously indiscreet... It is possible he is so naïve about worldly things as to have not realised his actions might have been seen as homosexual in nature."
In April 1974, in a confidential letter to the Met commissioner, the Director of Public Prosecutions said the "evidence is not sufficient to warrant proceedings".
The Scotland Yard investigation was ordered to be kept secret and the file was originally due to remain closed until 2069.