Queen's Birthday Honour CBE for women bishops campaigner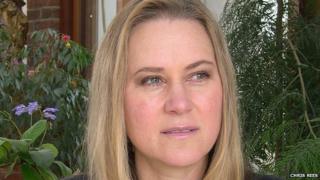 Christina Rees was on a Christian retreat in Northumberland when she learned she had been nominated for a CBE in the Queen's Birthday Honours.
The award recognised her services to the Church of England and involvement in the campaign for women bishops.
She said she was "thrilled" by the honour, which to her shows the campaign was "recognised as a service for the whole Church, not just about women".
The writer and broadcaster lives near Royston in Hertfordshire.
Mrs Rees was born on Long Island in New York and spent 10 years of her childhood living on a wooden schooner in the Caribbean and Mediterranean.
She came to the UK to complete a masters degree in women and religion at King's College, London.
She has been a member of the General Synod for 25 years, served on many of the Church of England's national bodies, is a preacher and was leading advocate for women bishops as chair of Women and the Church.
Mrs Rees said: "It's about women being recognised as fully human in the eyes of the institutional church - but the campaign started decades and decades before I was born, it was a group effort."
The Birthday Honours List also recognises the work of other people in Hertfordshire, Bedfordshire and Buckinghamshire, for their charitable, sporting and community work.
Kenneth Boon from Welwyn Garden City received a British Empire Medal (BEM) for services to Royal Mail after he used his 22 tonne lorry to steer a car to a safe stop on the M25, discovered the driver was unconscious and applied first aid before calling for help.
Susan Bell received a BEM for services for diving at Bedford Eagles Diving Club, while Jennie Ferrigno was also awarded a BEM for services to the community of Wycombe.