Yarl's Wood: Pregnant and vulnerable women 'wrongly detained'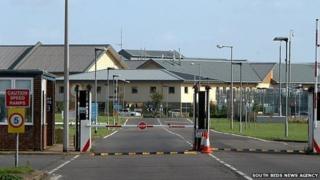 Pregnant and vulnerable women are being wrongly detained at an immigration removal centre, inspectors have said.
The Independent Monitoring Board (IMB) said it was concerned that few pregnant women were removed from detention at Yarl's Wood in Bedfordshire.
It said women with serious mental health problems have also wrongly been held in a separation unit.
The IMB said detention in both cases should be scrapped. The government said it wants to ensure people's protection.
Yarl's Wood, near the village of Clapham, is a residential centre housing mostly adult women and family groups awaiting deportation.
The 2014 annual report, which has just been published, said 68 women were detained in 2014 for more than six months and drew attention to the case of a woman detained for more than two years.
Yarl's Wood
One of 13 detention centres in the UK for foreign nationals prior to their deportation, overseen by an Independent Monitoring Board
Opened in 2001 at a cost of £100m by the Labour government following criticism of its failure to deal with a backlog of asylum claims
Contains residential accommodation for 410 people awaiting decisions on their cases, secured by barbed wire fences
Three months after opening it went up in smoke during an outbreak of violence, partially destroying the building
Taken over by private firm Serco in 2007
Over the years there have been a number of protests by detainees, including hunger strikes, and allegations of abuse and inappropriate sexual activity by staff
There have been repeated concerns about healthcare provisions at the centre
Examples of the contemptuous attitude which some guards allegedly showed towards those in their charge were exposed in undercover filming by Channel 4 News in March
It said indefinite detention was "harmful", with a high proportion of detainees eventually being released or bailed.
The IMB has recommended a time limit on detention, such as the six months laid down in the 2008 European Returns Directive.
It said more female officers should be employed at the centre, with the number of women detainees greatly outnumbering men.
Inspectors also highlighted "serious concerns" over healthcare provision, due to under-staffing and a lack of proper management for much of 2014.
GP hours have been cut and the counselling service withdrawn following a change of healthcare contractor.
However, they applauded the work done by the religious affairs and welfare teams at Yarl's Wood and the charity Hibiscus which provides advice and support for detainees.
The Home Office said no-one was held in immigration detention indefinitely and people are detained for the "shortest period necessary".
It added that pregnant women are only detained where their removal is imminent and medical advice allows.
Immigration Minister James Brokenshire said the government wanted to "protect the health and wellbeing of people at all times".
He said it would act on any findings highlighted in an independent review of welfare in detention, which is concluding in the autumn.