'Pigeon chest' teen James Jack Stark cured of condition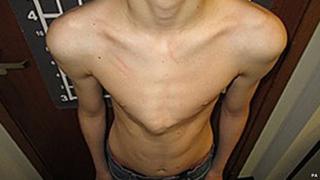 A teenager born with a condition known as "pigeon chest" now "walks with a swagger" following innovative treatment to correct the problem.
James Jack Stark, 14, from Hemel Hempstead, Hertfordshire, had a sternum and rib cartilage deformity resulting in a protruding bowed chest.
A technique developed by surgeons at Spire St Anthony's Hospital in Surrey has greatly improved his condition.
James Jack, who is now an inch taller than his twin, said he felt "amazing".
"It was... so exciting to see the difference right from the first consultation," he said.
The technique used to correct his condition, pectus carinatum, involved careful manipulation of the breastbone, ribs and cartilage and a special custom-made brace worn for up to a year.
James Jack's mother Jacquie Stark said since his condition had improved, her son walked "with a swagger" and hoped to join the armed forces one day.
"Previously he hated his chest, his confidence was at rock bottom and it could really upset him.
"I once found him in the garage in tears with a hammer in his hand threatening to break his own chest bones to sort it out."
Consultant thoracic surgeon Ian Hunt, who developed the treatment, said seeing "low confidence, crushed teenagers" recover "emotionally as well as physically" was "quite remarkable and very rewarding".