Sally Campion hammer murderer Matthew Keough jailed for life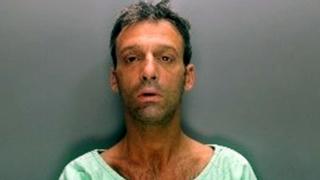 A man who killed a former girlfriend who had obtained a restraining order against him has been jailed for life.
Matthew Keough, 44, of no fixed address, had pleaded guilty at St Albans Crown Court to the murder of Sally Campion, 45, in Bartholomew Road, Bishop's Stortford, last July.
He used a claw hammer to inflict 41 separate injuries on her at her home.
Judge Andrew Bright QC said Keough was "savage and brutal" and must serve a minimum term of 22 years.
During sentencing, the court heard residents saw Keough's attack on Ms Campion, through her half-down bedroom blind.
Neighbours found her in her bedroom covered in blood. She later died in hospital.
After the attack, Keough walked casually out of the front door where he was tracked by two teenagers, who were commended by Judge Andrew Bright QC as showing "great courage".
'Pure evil'
Liam Sellen, 13, pursued Keough into Castle Street and onto New Town Road where he flagged down a police van and gave them a description of the offender.
His brother Tyler, 15, who described the look in Keough's eyes as as "pure evil and nasty", also ran after him and went into a nearby pub to get help.
"As a result the police were able to track the defendant to Bishop's Stortford railway station, where he was promptly arrested," the judge said.
The court also heard Keough had earlier admitted breaching a restraining order made on 7 May last year banning him from contacting Ms Campion.
Prosecutor Stuart Trimmer QC said the offender had a "history of domestic violence", including kicking and punching another ex-girlfriend in 2006 and 2007, and threatening to kill her in 2008. He was sentenced to three-and-a-half years at Blackfriars Crown Court.
Keough's barrister, Miranda Moore QC, said he had "a degree of amnesia about the events that night" and that "drink and his abuse of it have defined his recent life".
'Savage and brutal'
Judge Bright said Keough's motive lay in the fact that he could not accept Ms Campion's decision to end their relationship and was jealous of her new relationship.
"The blows you struck to her head with that hammer were so savage and brutal and the injuries caused so severe, that your intention can only be to kill her," he said.
"Suffice it to say that I am firmly of the view that you pose a very great danger to women with whom you may form relationships in the future."
Hertfordshire Police said Keough's life sentence "reflects the seriousness of his actions".
Det Chief Insp Jo Walker said: "The injuries Matthew Keough inflicted on Sally were horrific and the actions of a controlling and violent man who gave no thought to the devastating impact of his actions."
A domestic homicide review by the local authority is currently under way and Hertfordshire Police is also investigating its own conduct.