Bedfordshire Chief Constable Colette Paul's early retirement timing 'unexpected'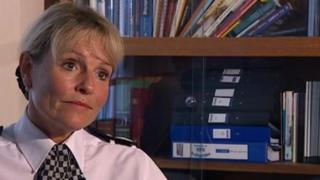 The early retirement of Bedfordshire Chief Constable Colette Paul has "raised more questions than it answers" says the police federation chairman.
Ms Paul announced she will take early retirement after two years in the job.
Bedfordshire Police Federation chairman Jim Mallen pointed out she was retiring and not resigning, but agreed the timing of her decision was unexpected.
Later this month the force is restructuring with a switch to using a different operational policing model.
The new restructure will involve a massive change in the way the force works.
Although it is unclear when the chief constable will leave, Mr Mallen said that for her "to leave even before the start of that gives more questions than answers".
"Ordinarily with these things there's a build-up, or something that prompts it, and with her sudden decision to retire there hasn't been anything building up."
He said it was difficult to speculate why she was retiring but said the force had historically been under funded and that brought its own pressures.
"It's a rural force with urban problems," he said.
HM Inspectorate of Constabulary recently raised concerns about response times and a cut in frontline officers.
Ms Paul's decision comes just weeks after Labour Police and Crime Commissioner for Bedfordshire Olly Martins lost a local referendum asking residents if they would accept an increase in council tax to fund more police officers.
She said: "I consider Bedfordshire fortunate to have the PCC, Olly Martins, who is committed to ensuring the best possible future for the force, and I am particularly proud to have recruited a talented Deputy Chief Constable, Jon Boutcher, who will continue to work with Olly to address the challenges, lead our new policing model and take us closer to delivering our Five-Year Plan."
---
Analysis by Sally Chidzoy, BBC Home Affairs correspondent
The Chief Constable's decision to retire took everyone by surprise - not least her own press officers. She sent a personal message to staff at 16:33 BST yesterday.
It circulated while the Police Crime Commissioner, Olly Martins, who appointed her, was on holiday. She said she had decided to take a different direction in life, she had wedding plans and wanted to travel.
Ms Paul is a tell-it-as-it-is chief constable. Recognising the huge financial pressures facing her small force and the exceptional demands placed upon it by the terror threat and organised crime gangs, she spoke out in support of the PCC's ill-fated attempt to raise more money through a referendum.
She desperately wanted to be able to fund more police officers and protect the ones she had. Since the PCC's defeat at the polls she has not been visible.
There's no doubting the passion she feels for the job. But it's the timing of her sudden announcement, just two years into her appointment, that is bound to fuel speculation about the full reasons behind her decision to quit. Perhaps it will become clearer in the coming few days.
---