£40m NHS Bedfordshire CCG deficit 'biggest ever'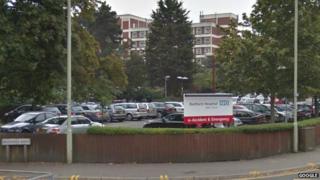 An NHS commissioning body is thought to be facing the largest deficit ever recorded by a group of its kind in England.
Bedfordshire Clinical Commissioning Group (CCG) has warned it could hit a £40m shortfall by the end of the current financial year.
The CCG funds hospital services, community health services and mental health services across the county.
In November, it told the BBC it would be able to limit its deficit to £28.8m.
But after a review of January's figures, chief clinical and accountable officer Dr Paul Hassan told the group's governing body it had now forecast a £40m deficit.
'Deeply disappointing'
The CCG's total budget for 2014-15 was £444m.
Dr Hassan said he "very much regretted" having to report the revised forecast, which was "deeply disappointing to him".
"This is a very difficult time for the NHS in Bedfordshire," he said.
"We must regain control of our finances if we are to maintain the strides we have made in the quality and safety of care available to local people," he said.
He said growing demand for care due to a "difficult winter", a rise in mental health patients being treated outside the county and an increase in "costly community-based care" had contributed.
NHS England is to appoint an external auditor to investigate the group's contracting and accounting processes, he said.