Garage owner jailed in £37m drugs plot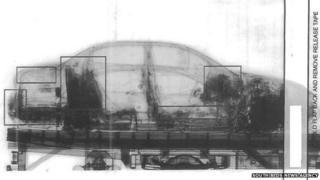 A garage owner has been jailed for 19 years for his part in a plot to smuggle £37m worth of heroin into the UK.
Attique Sami, 44, of Walden Way, Ilford, was found guilty of conspiring to import and supply heroin, at Luton Crown Court.
The drugs were found hidden in an X-type Jaguar imported into Felixstowe in December 2013.
The conviction follows the sentencing of Noman Qureshi from Bradford and Israr Khan from Luton last October.
Qureshi, 32, of Bracken Hill Mews, and Khan, 35, of St Ethelbert Avenue, were found guilty of trying to supply Class A drugs and jailed for 21 years and 18 years respectively. A third man, Mohammed Safder, was acquitted.
Specially-adapted
The court heard that the specially-adapted car, which was imported on a container ship from Pakistan, had no ignition, no electrics and could not be driven.
The 230 kilos of drugs in 316 packets, which had been hidden in a series of secret compartments, were revealed when the vehicle was X-rayed.
Paperwork made out the car had been shipped to the UK to be repaired.
Qureshi drove from Bradford to pick up Khan in Luton on 6 December before driving to a hotel in Ilford, where they were met by Sami to discuss where to unload the heroin, the National Crime Agency (NCA) said.
But the gang were unaware their moves were being monitored by NCA investigators.
The Jaguar was driven on the back of a low-loader to an address in Dagenham during the early hours of 7 December
Qureshi and Khan met it, but shortly after left the scene. They were arrested later that morning in Luton.
Sami was arrested in February 2014. NCA investigators linked him to a phone that had regularly been used to contact Qureshi.
David Norris from the NCA said Sami had "played a crucial part" in the conspiracy, where his role would have been to recover the concealed drugs.