Wolverton works historic railway sheds in Buckinghamshire face demolition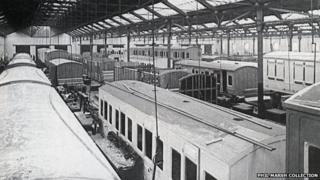 The historic railway works at Wolverton in Buckinghamshire is set to be knocked down to make way for 300 new homes.
Proposals put forward by land owner St Modwen would see a mixture of housing and retail built on the 37 acre site.
Rail conservationists have criticised a lack of commitment to more old railway sheds and are concerned about the future of the royal train kept there.
Former railwayman Phil Marsh said the plans would "destroy the very essence of Wolverton".
He said: "Without the works Wolverton would not have existed."
Wolverton Works was the first purpose built railway town in the country when it opened in 1838 and remains the longest continuously open railway works in the world.
The former Royal Train Shed built nearly 150 years ago was converted into housing in 2006.
In 2013 the works were bought by the German company Knorr-Bremse after previous owners Railcare went into administration.
St Modwen, which has owned the land since the 1990s, said it would build new premises for Knorr-Bremse to ensure the survival of the works.
The company says it will aim to reflect the former railway works within the plans.
But modern buildings which house the royal train do not feature in the proposals. Insiders say there is a high chance the train, used by the Queen and other members of the royal household, will be housed elsewhere.
Leo Coleman, now 93 years old and the former project manager of the royal train team, began his career at the works in 1937.
He said he would be "very sad" to see them go, but understood the need to "give a young couple a chance at housing".
Sources within Milton Keynes Council say the land can not remain derelict and a key way of preserving the heritage of the site is to ensure the works remain open.
St Modwen said the plans would bring "long term major regeneration" with a planning application expected "within the next couple of months".
The council is likely to reach a decision this summer.
If approved, a discount food store would be built first, followed by the works regeneration and housing to be built by 2017-2020.