Luton parents seek answers over stillborn baby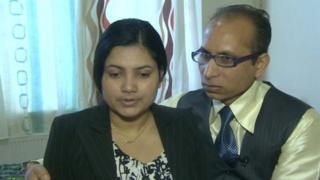 The parents of a baby girl who was stillborn at the Luton and Dunstable Hospital say they are still waiting for answers three months after her death.
Pregnant Mousomi Shabnam, 30, and her husband Mohammed Amin, 44, went to the hospital in the early hours of 9 November when she started bleeding.
The couple, who live in Luton, believe if the hospital had heeded their concerns their baby could have lived.
The hospital said it was preparing a full report for the parents.
Ms Shabnam said when she first went to the hospital a nurse told her not to worry and she was sent home. A few hours later the baby stopped moving.
They returned to the hospital, but were not put on a priority list.
Mr Amin told the BBC: "They came two and a half hours later to see the baby and the mother. By then it was too late."
The baby was delivered stillborn the following day.
The couple said they are frustrated that they have not yet had any answers to their concerns about their treatment.
A spokesman for the hospital said it "has offered its condolences to Mohammed Amin and his wife Mousomi Shabnam following the stillbirth of their baby".
"Medical staff at the hospital were able to confirm, by ultrasound scan, that sadly no foetal heartbeat had been present before the baby was delivered," the spokesman added.
"As part of our patient safety process we have undertaken an investigation into this tragic event.
"The hospital has recently completed its investigation and is now preparing a formal report which will be made available to the parents."