Rebecca Clarke goes from dinner lady to head teacher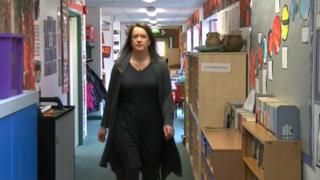 A former dinner lady has risen through the ranks to become the new head teacher of a school.
Rebecca Clarke, 47, said she felt she had achieved her "destiny" after securing the top job at the two-site Greenleas School in Leighton Buzzard.
Mrs Clarke first volunteered at the school as a parent helper in 2006, before taking on the role of mid-day supervisor a year later.
She began a teaching course while carrying out the supervisor role.
Mrs Clarke, who worked in the computer hardware industry in the US, took a career break after having her daughter, Elizabeth, and returned to England.
She decided on her new career path after becoming a volunteer when her daughter joined the school.
Lunch-time role
"I was listening to the children read and when they started to make sense of those marks on the page I thought this is what I want to be doing," she said.
She enrolled for a teaching training course and took up the mid-day supervisor role, which involved looking after children at lunch times.
By the following year she had completed her qualification and started teaching reception classes.
Her rise up the ranks continued when she was made deputy head and by June 2013 she became acting head.
A new head teacher was appointed in September that year, but by April 2014 he had left and Mrs Clarke was given the acting head role again.
With the school having completed a transition on to two sites, she was appointed as head teacher on a full-time basis.
"It seems it had been my destiny," she said. "This is the best job in the world."
Mrs Clarke said she used a lot of the skills she learnt as a mid-day supervisor as she worked her way up the ranks.
Her jobs involved looking after three year olds and making sure they ate their packed lunches, tending to cuts and bruises and reminding them to go to the toilet.
"You don't have the authority of being the class teacher," she said. "You are there getting them to eat their lunch. It makes you a lot more creative and you have to make things fun."
She said her experience of every role in the school means she can see things from everybody's perspective.
"I was there when the new school was being built so it seems natural for me to take it forward," she said. "[But I] never have imagined being head this quickly".
She said when she was made deputy head she joked she "would write a best seller, from dinner lady to deputy head in seven years".
Parent governor Tim Hodey said Mrs Clarke had brought "stability" and "fun" to the school, which takes pupils after pre-school age.
He said: "She has the respect of parents, children and staff."