Old Warden pear saved by Shuttleworth College students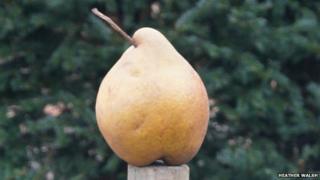 An ancient variety of pear tree that was once at risk of disappearing is being preserved and replanted by a Bedfordshire agricultural college.
The Old Warden Pear was first grown by 14th Century monks in Old Warden village and is mentioned in Shakespeare's The Winter's Tale.
There were five trees left in the county when Shuttleworth College began a preservation programme in 2012.
Students have now grown 30 trees, believed to be the only ones in the UK.
The Old Warden cooking pear was popular in the 14th and 15th Centuries and was the main ingredient in the Warden pie, a pastry pie made with saffron, which was referred to in The Winter's Tale.
The fruit was well-liked as it would keep from the autumn harvest through to January or February the following year without refrigeration.
Its popularity declined steadily after the 1800s with the arrival of the sweet pear.
Students at the college, based in Old Warden Park, have donated two of the new plants to the historic Jordans Mill in Broom to ensure the tree lives on in the area where it was first grown.
Horticulture lecturer Paul Labous said: "It's very important to save varieties of fruit as some have died out completely.
"These are extremely useful for cooking as they don't disintegrate and are very good for storing.
"It's also important to regenerate local history."
The mill's head gardener, Svenja Burckhardt, said: "It's not every day you get the chance to plant a piece of history.
"We'll be keeping a close eye on them to make sure they thrive."