Sally Evans slams UK anti-terror 'failure'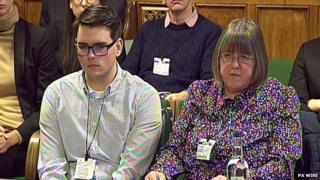 The family of a Buckinghamshire man fighting with Islamic militants in Somalia said there had been a "massive failure" by UK authorities for allowing him to leave Britain.
Sally Evans, from Wooburn Green, told the Home Affairs Select Committee she felt "let down".
Her son Thomas had managed to fly to Egypt in 2011 after being stopped from going to Kenya some months earlier.
The Home Office said it did not comment on individual cases.
Mrs Evans said her son, who changed his name to Abdul Hakim, was a "normal teenage lad" before turning to Islam in 2009.
However, she said he had done "one or two things I wasn't proud of" so she was "quite happy for him to follow Islam if that was what he wanted".
"But slowly he started to drift down a path that was not right," she added.
'Had suspicions'
In February 2011, aged 21, he tried to fly to Kenya but was stopped by anti-terrorism police at Heathrow.
A few months later, he flew to Egypt, telling his family it was to learn Arabic.
In January 2012, he told his mother he had travelled from there to Somalia to join Islamist al-Shabaab fighters.
"In all honesty I didn't know what al-Shabaab was," Mrs Evans said.
When she realised her son had joined a terror group and may be prepared to be a suicide bomber it was the "biggest shock in the world", she said.
Younger brother Michael Evans said: "It's frustrating because [the authorities] obviously had suspicions about him, they stopped him flying to Kenya, and for him just to go to the airport a few months later and get on a plane to Egypt, no questions asked, seems like a failure somehow.
"They obviously had some concerns about him. Someone made a mistake somewhere."
Mrs Evans said: "There was a massive failure... we've been let down that they let him fly."
A Home Office spokesperson said: "People who commit, plan and support acts of terror abroad and seek to return to the UK will be prosecuted by the UK authorities...
"Additionally, the Counter-Terrorism Bill includes a package of new powers to control the return of, and impose strict conditions on, British nationals we suspect have been involved in terrorist activity abroad."