London rail tunnel flood causes Thameslink 'major delays'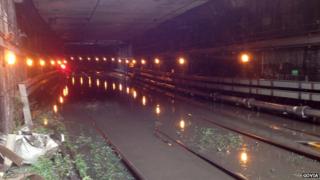 Flooding from a burst water main in a tunnel has left the Thameslink rail operator "unable to run any trains" in London until the problem is fixed.
About 50,000 litres of water poured into the tunnel between St Pancras and Farringdon on Friday.
Network Rail said it was still pumping water out, and expected disruption to continue for the rest of Monday.
Train operator Govia said the issue was causing "major delays" on services from Bedfordshire and Hertfordshire.
The Thameslink line, which runs from Bedford to Brighton, also serves commuter stations in south London and Kent.
Govia said journey times would be extended by up to an hour, and suggested alternative travel options to its customers.
A Network Rail spokeswoman said trains would be unable to run between London St Pancras International and Farringdon until "at least the end of service" on Monday.
On Sunday, at least 3ft (1m) of water remained in the tunnel despite "continued efforts" to pump it out, the authority said.
"We, and Thames Water are currently working hard to fix the problem," the spokeswoman added.
Roger Perkins, from Govia, said the situation was "incredibly frustrating".
"We have a very much reduced service running from Bedford - we've got a total of four trains an hour running up to and from St Pancras International.
"We can't run anything between St Pancras and Farringdon so it is going to be very difficult for people this morning," he said.