Barnfield incinerator rejection judged unlawful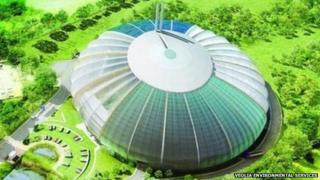 The government's rejection of a £1bn waste incinerator in Hertfordshire has been ruled illegal by the High Court.
The heat-from-waste burner on green belt land at New Barnfield near Hatfield is to be reconsidered by Secretary of State Eric Pickles.
Waste firm Veolia won its appeal by claiming government rules on planning and waste had been ignored.
A government spokesman stressed the decision did not mean the planning application had been approved.
Campaigners against the project said it was a setback but expected Mr Pickles to reject the plan again.
Mr Justice Holgate at the High Court said Mr Pickles got it wrong in balancing harm to the green belt with the need for the incinerator.
Planning inspectors had turned down the huge processing plant, saying it was an "inappropriate" development.
Hertfordshire County Council, which spent nearly £6m supporting the project, said it was needed as an alternative to landfill.
Paul Zukowskyj, from Hatfield Against Incineration and a Lib Dem county councillor, said: "I expect the judgement to go back to the secretary of state and he will probably make the same decision to reject the proposal."
John Dean, leader of Welwyn Hatfield Borough Council, said: "Naturally, we are disappointed that the High Court has come to this conclusion.
"We have fought long and hard to make the case on behalf of residents that New Barnfield is an inappropriate site for the incinerator."
A spokesman for the Department for Communities and Local Government said the ruling had been "on a technical point of law".
He said the ruling would now be carefully considered.
"Either the department will contest the court's decision, or the appeal decision will simply be re-determined."