Spelling mistake exposes fake vodka in Luton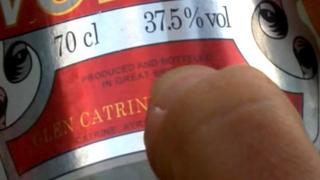 More than 160 bottles of potentially lethal fake vodka containing industrial solvent and paint stripper have been seized from three shops in Luton.
The Glen's and Kommissar-branded bottles were taken off the shelves by trading standards officers after they spotted a spelling error on the label.
The word "bottled" had been spelled as "botteled".
Tests revealed the drink was made with the industrial solvent isopropanol and butanol, contained in paint remover.
Luton Borough Councillor Aslam Khan said the fake alcohol could kill people.
Mr Khan said: "It is very worrying to find these dangerous products on sale locally.
"Drinking these chemicals could cause serious illness or even death in extreme cases.
"Many unsuspecting consumers may think they are buying cheap duty-free alcohol, when they are actually buying fake and dangerous products."
An investigation into the source of the counterfeit vodka has been launched, but it is believed it came from a "white van man".
Anyone who has already bought of bottle of fake alcohol should return it to the shop or contact the council's trading standards team.