Lord Brocket's staff fail in bid to get heirlooms from hall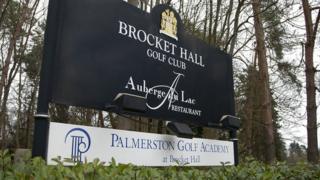 A peer who handed control of his stately home and estate to a hotel and golf group when he was jailed has failed to get back family heirlooms.
Lord Charles Brocket, 62, sent removal vans to Brocket Hall in Hertfordshire on Monday believing he had permission to remove the property.
After a stand-off at the hall gates, the vans were turned away empty.
Lord Brocket was jailed for his part in a £4.5m insurance fraud involving classic cars in the 1990
The company is expected to comment in detail later.
The 62-year-old peer, who appeared on I'm a Celebrity Get Me Out of Here in 2004, is in a year-long dispute with the company that is leasing the heirlooms that decorate the 25-bed Grade-I listed house.
The house and 500-acre estate is run as a hotel and golf complex.
The hall, near Welwyn Garden City, was leased out to Brocket Hall International (BHI).
In a statement the peer said trustees of the Brocket Estate would be criminally liable if they fail to maintain the listed buildings and contents.
The vans were turned away when the tenant's solicitors wrote saying that the trustees could not clear the contents.
A dinner for players and their partners from Arsenal football club was cited as a reason, he said.
The peer believed lawyers from the two sides had reached an agreement for the trustees to collect the contents.
Last June, the peer hired a removal company to seize items and a convoy of lorries was stopped on the A1 by police who forced him to return the paintings and furniture to the house.