Kempston lollipop lady hit by car on school crossing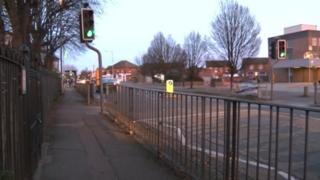 More than 100 people have sent their good wishes to a lollipop lady knocked down on a pedestrian crossing in Bedfordshire.
The woman, in her 70s, was hit by a car outside Bedford Road Lower School in Kempston, at about 15:40 GMT on Friday.
She was airlifted to Addenbrooke's Hospital in Cambridge with serious injuries, a police spokesman said.
Former pupils and parents posted comments after police put details of the incident on their Facebook page.
The accident happened on the last day of term as pupils were leaving the school.
One person wrote on the social media site: "Can I just say how amazing some of our parents of Bedford Road Lower were with assisting the emergency services and controlling traffic."
Others have sent their "thoughts and prayers" to the lollipop lady, who they said had been a school crossing officer for many years.
The condition of the injured woman is not known, but she remains in hospital.
An investigation is continuing and police have appealed for witnesses to come forward.