Ashwell villagers raise £3,000 for church bells to ring 'more gently'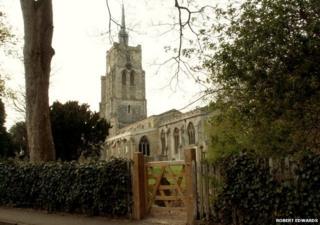 People who fought to keep a village's church bells chiming overnight say they have raised £3,000 for a device to make them ring "more gently".
Ashwell, in Hertfordshire, has been split between people who say St Mary's quarter-hour chimes keep them awake at night, and others who like them.
The quarterly chimes have been silenced between 23:00 and 07:00 but supporters were given time to find another option.
Save Ashwell Church Chimes said it believes it has found "a compromise".
The St Mary's bells have been ringing for more than 100 years, but were silenced while repairs were carried out two years ago.
Alternative solution
Following the repairs, complaints led to an investigation by North Herts District Council, which decided the chimes were "prejudicial to health".
Last December Ashwell Parish Council took the decision to stop them chiming every 15 minutes overnight to avoid being issued with a noise abatement notice, although they could still ring on the hour.
Save the Chimes called for a referendum, claiming it was not what most of the village wanted and the group was given "at least six months" to develop and raise funds for an alternative solution.
Wayne Francis of Clockwise Restorations has now designed a hammer device which the group believes can control the overnight volume of the chimes.
Campaigner Maria Brown said everyone who had seen the prototype was impressed and the disagreement "should be resolved soon".
If there are no objections, work to install and test the device can start from 13 January.