Veolia takes Barnfield incinerator fight to High Court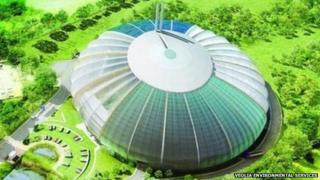 A waste company has gone to the High Court to challenge a decision to refuse the building of a £1bn energy-from-waste incinerator in Hertfordshire.
The plant on green-belt land at New Barnfield was judged "inappropriate" by Communities Secretary Eric Pickles.
Veolia is challenging the decision on legal grounds, claiming the government department contradicted its own planning and policy rules.
The county council spent almost £6m trying to get the plans approved.
Hertfordshire County Council said the plant would have processed 380,000 tonnes of waste a year, saving taxpayers £667m over the 25-year contract.
It agreed the plans from Veolia in October 2012 but the decision was called in by the Department for Communities and Local Government (DCLG).
A public inquiry was held in September 2013.
Making his judgement in July, Mr Pickles said the benefits did not outweigh the potential harm to the green-belt.
Veolia said it "strongly believed" Hertfordshire needed its own waste treatment plant inside the county boundaries.
"Having studied the Secretary of State's decision, we believe current policy and law have been misapplied," a spokesman said.
The waste company is taking its challenge to the High Court at their own cost, independently from the county council which is not challenging the decision.
Cathy Roe, Secretary of Hatfield against Incineration, said: "We expect Veolia's challenge to be unsuccessful.
"We are determined that once the incinerator proposal is totally defeated, Hertfordshire County Council must go on to adopt methods of management of waste that minimise harm to people and the environment.
"We urge HCC to fully implement their policy of 'reduce, re-use, re-cycle'."
The court's decision is expected early next year, after a two-day hearing.