Buckinghamshire council leader Martin Tett says cuts are 'acute'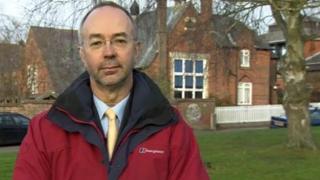 Protection of vulnerable children and pothole repairs are to be priorities in Buckinghamshire next year.
County council leader Martin Tett said its government grant would be cut to £41.5m in 2015/16 but £25m would still be spent on road repairs.
The Conservative administration still "supports the government's financial strategy", Mr Tett said.
But financial challenges were "acute" as it received the second lowest level of government support in England.
Mr Tett said government figures show only Dorset got less money from central government.
The latest government figures show Buckinghamshire received £58.4m and Dorset £52.6m.
The council's own budget report said money received from government would fall to £41.5m in 2015/16, with further reductions expected in the two years after that.
The authority would have to make cuts of £46.5m by 2017/18 and 80% of this money would come from efficiency savings.
The £25m to be spent on restoring roads is an increase from last year's £15m level. It has been achieved by bringing forward planned spending from future years.
Council tax is set to rise by 1.99% and the draft budget will eventually go before the council on 12 February 2015.