Hitchin Town fans protest about ground sell-off plans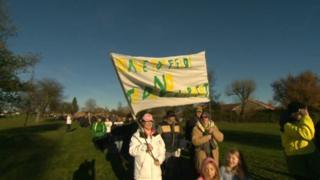 Over 1,000 people marched through a town in Hertfordshire to protest about plans to sell a football stadium for redevelopment.
Hitchin Town have played at Top Field since the 1870s but it is owned by the Hitchin Cow Commoners Trust.
The charity wants to sell the land for development as a supermarket on condition its new owner builds a stadium on the outskirts of the town.
Club secretary Roy Izzard said the move would be the club's "death knell".
The club dates its origins to 1865 and took part in the first FA Cup in 1871-72.
The Hitchin Cow Commoners Trust, which is run by eight unpaid trustees, said it would never consider selling the land "without securing a suitable site for the relocation of Hitchin Town FC".
The proposed facilities on Stevenage Road would "provide a modern, much larger, more well-equipped football stadium", as well as "netball courts, practice pitch and substantial car parking", the trustees said.
Mr Izzard said police told him about 1,300 people took part in the march on Saturday.
"Our current ground is absolutely central, absolutely perfect," he said.
"We know that quite a few fans would not go a stadium we do not want - we've seen a lot of non-league clubs moved to out of town sites and then struggle to stay open."
The trustees have not confirmed how much money it could receive under the deal, but Mr Izzard believes the site to be worth £15m.
The planning application for the supermarket will go before North Hertfordshire District Council in February.