John Sheppard murder: Fresh appeal after Aylesbury bookie's killing in 1994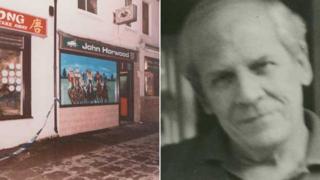 Police said they hope allegiances have changed as they made a fresh appeal for information on the 20th anniversary of the killing of an Aylesbury bookmaker.
John Sheppard, 66, had been stabbed more than 40 times at the John Horwood betting shop on Cambridge Street on 3 December 1994.
Police said a £20,000 reward was still available.
Peter Beirne, of Thames Valley Police, said there was a chance to help "in bringing justice for his family".
Mr Sheppard, from Leighton Buzzard, had been finishing work when he was attacked some time after 17:15 GMT.
His body was found at 18:30 GMT when he failed to meet a friend as planned.
'Horrific injuries'
He had been stabbed and struck around the head and had 40 wounds.
Mr Beirne said: "Recent work carried out by the Major Crime Investigation Review Team has resulted in new forensic evidence being found at the scene [that] could be used to implicate or eliminate people.
"The reason why you have not already come forward with information may be long gone and is unimportant."
Emma Meir, Mr Sheppard's daughter, who had just moved to Australia when he was killed, said: "It's constant and it has been for 20 years - it never goes away.
"I think when you're told of those horrific injuries that he incurred you naturally go into a state of shock.
"We're really hoping we can get some closure and clarity and by that we mean we would like to know why and who."