Luton youngsters can win a bike or scooter by turning up at school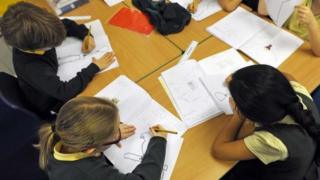 A school offering pupils the chance to win a bike or a scooter for good attendance says the incentive works.
Head teacher of Whitefield Primary School in Luton, Jamie Pardon, said overall attendance had increased from 93% to 94.6% and was rising.
Pupils who attained 95% attendance qualified for inclusion in a raffle.
Dr Sandi Mann, a psychologist, said it would have been better to build school aspirations rather than offer other incentives to the children.
The academic, from the University of Central Lancashire, said monetary incentives might work in the short term, but the school's ambition should be to motivate the children to attend because it would mean a better future.
Positive response
Ms Pardon said her team at the school had adopted the raffle after an Ofsted inspection.
"Ofsted have said very clearly there is a strong link between good attendance and results," said Ms Pardon.
Her team came up with the raffle idea and the pupils had responded positively, she said.