HMP Woodhill prisoner's family call for assault investigation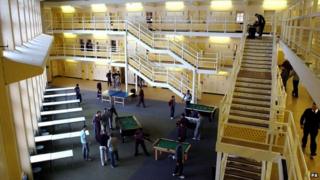 The family of a prisoner left in a "life-threatening" condition after being attacked are calling for a full investigation into what happened.
The 27-year-old man, who is serving time at HMP Woodhill in Milton Keynes, was assaulted on 20 November.
His sister said his relatives were contacted a few hours after he was attacked, but were told very little about what had happened.
A Prison Service spokesman said the attack was being investigated.
Police are also investigating an additional attack on a prisoner by another inmate on the 27 November.
The two incidents are not related.
"We do not tolerate violence of any kind in prison and have systems in place to deal with perpetrators quickly and robustly," a Prison Service spokesman said.
"We recently announced a new joint protocol with the CPS (Crown Prosecution Service) and will always press for the most serious charges to be laid against those who carry out assaults."
"Individuals are assessed in hospital, and once their condition is known, restraints can be reviewed and removed if appropriate," he added.
'Grief-stricken'
The prisoner's sister, who did not wish to be named, said her brother was still in hospital where his injuries remained "life-threatening".
She said his family members had been called to hospital but were given no information for several hours - an "indescribable" wait, she said.
They were eventually told by hospital staff that he had a brain injury and "might not make it", and they should pray for him.
"It's really hard to even talk about it. We're completely grief-stricken, and our lives have just been put on pause," she said.
"We're just trying to cope with everything one day at a time."
She called for a "full investigation" to be carried out into the attack.
"We want to know what happened, how they allowed it to happen, what the motivation behind it is, what type of safeguarding is in place.
"It all needs to be reviewed," she said.