Bedfordshire officer cuts risk effective policing, says HMIC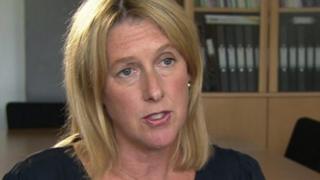 Cuts to police numbers in Bedfordshire are putting "at risk" its ability to provide effective policing, the HM Inspector Zoe Billingham has warned.
The HM Inspectorate of Constabulary (HMIC) has called on the force to improve its performance in cutting and preventing crime.
Ms Billingham said frontline officers are now "very overstretched".
Bedfordshire's police commissioner said in the light of government budget cuts, he "despaired" at HMIC's attitude.
Following the publication of an inspection report, Ms Billingham said: "I am concerned that over the last two years police officer numbers have been cut to such a low level that the ability of Bedfordshire Police to provide an effective policing service to the public has been put at risk.
"The new Chief Constable has recognised this. She is increasing officer numbers and reorganising the force. There are fundamental weaknesses in the way the force responds to victims of crime, especially those who are the most vulnerable.
"Despite all of this, there are a number of positives. The force works well with partners, such as local councils, to identify and support victims of anti-social behaviour."
Ms Billingham said the HMIC will revisit the force by next April for a follow-up inspection.
Police and crime commissioner Olly Martins said: "Clearly Bedfordshire Police faces serious challenges because it doesn't receive a level of resources appropriate to its needs, and in fact we face still further government police funding cuts.
"I therefore despair of HMIC's attitude towards Bedfordshire Police. Their negative and injudicious use of language about the force could impact on staff morale and public confidence.
"I find it incredibly disappointing that, rather than being a critical friend in challenging times, HMIC prefers to hit police forces with a tsunami of inspections and recommendations in a costly and time-consuming process."